SHS Drinks has relaunched its cocktails in cans under the WKD MIXD name.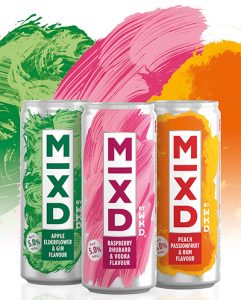 Presented in 250ml slimline cans, the 5% abv drinks are available in three flavours: Raspberry, Rhubarb & Vodka; Apple, Elderflower & Gin; and Peach, Passionfruit & Rum.
With a striking and colourful design, WKD MIXD is aimed at bringing a sophisticated, grown-up presence to the ready-to-serve category. Cans are available in both standard and £1.69 price-marked formats, and in 12 x 250ml shrinkwrapped cases.
The new range replaces WKD MIXED cans in Cheeky V, Passionista and Oh Schnapp variants.
WKD MIXD is being supported by significant marketing investment in 2020. Using the theme 'All MIXD Up And Ready To Go', a social media campaign will reach over five million consumers, while a social influencer push will utilise a 'Masters of MIXD-ology' concept. In addition, there will be MIXD-branded giveaways online.
To create trial and generate rate of sale for stockists, 30,000 cases of WKD bottle 10-packs will contain 50p off single-can purchase vouchers, WKD MIXD will be cross-promoted on WKD bottle four-packs, and promotional activity with the cashback app CheckoutSmart will offer thousands of free cans to consumers through participating retailers.
With the total ready-to-serve can category growing annually at 19%, and the overall WKD brand in impulse growing at 63% per year and 137% in the most recent quarter (Nielsen), SHS Drinks believes that there is huge potential for WKD MIXD to significantly build can sales for retailers.
"In the two years since its original introduction, the WKD range of pre-mixed cocktails has successfully recruited a unique, younger shopper to the ready-to-serve can category (Nielsen)," says Nick White, head of marketing at SHS Drinks. "However, research insight has revealed that we can better leverage the WKD cocktail offering to deliver long-term growth for retailers. We know that consumers naturally transition from bottled RTDs to ready-to-serve cocktail cans – seeking higher abv and a more mature taste – and we have evolved our range to better meet requirements.
"The enhanced cocktail offering showcases another great example of our category-leading approach: targeting incremental sales for independent retailers through brand innovation."
Tel: SHS Drinks (01452) 378555

Published Date: August 11, 2020
Category: Product of the Month