---
HEADLINES THIS WEEK:
– SCOTTISH DRINKS TAKEOVER
– HALL INTEGRATES IT
– CREED SPONSORSHIP
---
SCOTTISH DRINKS TAKEOVER
Dunns Food and Drinks, the Blantyre-based delivered wholesaler and soft drinks manufacturer, has acquired craft and world beer specialist Dameck Drinks Scotland for an undisclosed sum as part of its strategy to strengthen its product range and increase turnover by £3m to £25m next year.
Jim Rowan, Dunns' managing director, said: "Craft and world beer is a highly specialised category. As Dameck, of Bathgate, is already selling over 1,200 craft and world beer products into the Scottish on-trade, this acquisition will allow us access to a customer base and market sector in which we have little presence.
"Dameck shares the same values as us, offering customers excellent products and service at competitive pricing. We're also delighted that Danny McGeough (Dameck's managing director) and his team will continue to introduce and develop innovative product ranges."
Privately-owned Dunns, which has invested £100,000 in a new IT system to improve customer service and embarked on a £250,000 refurbishment of its 70,000 sq ft depot and offices, serves the licensed and foodservice sectors.
A further £160,000 is being invested in the company's 26-strong fleet, while another £40,000 will be channelled into staff training and development over the next two years.
Dunns – a member of Country Range Group – also recently launched its own Wine Academy and became a member of The Society of Vintners.
Tel: Dunns Food and Drinks (01698) 727700.
---
HALL INTEGRATES IT
Following its recent acquisitions of forecourt and c-store distributor GAP Convenience Distribution and Clayton Park Bakery, SPAR franchisee James Hall & Co has replaced its IT systems in both companies with BCP's Accord Distribution solution.
The wholesaler services 500 independent and company-owned stores across the north-west from its premises on the outskirts of Preston.
GAP distributes 'brand-leading' products to national, independent forecourt and convenience outlets, focusing on motor accessories, toys and foodservice products. Clayton Park supplies cakes, bread and pies to retail and foodservice customers.
IT systems were already in place at both companies, but James Hall wanted to standardise systems across its business.
The IT roll-out included Accord's Telesales module, in addition to the purchasing, sales order processing and ledger functionality operating at James Hall. The GAP implementation also included Accord's Voice WMS, which is used by James Hall.
Dominic Hall, the wholesaler's IT director, said: "It's early days yet, but Accord is, as anticipated, proving well up to the job and will scale up easily to handle expansion in all divisions."
Tel: James Hall & Co (01772) 706666.
Tel: BCP 0161-355 3000.
---
CREED SPONSORSHIP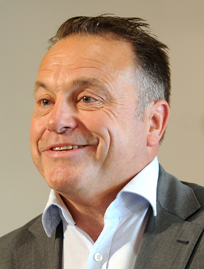 Creed Foodservice is a major backer of the Taste of Gloucestershire Food & Farming Awards, sponsored by the Gloucestershire Echo and Gloucester Citizen.
Food and drink producers across the county, along with hotels, pubs and restaurants, have been invited to enter. The prizes will be presented at Cheltenham Racecourse in October.
Among the guests attending the event's launch was Creed's commercial director Karl Goodwin (pictured right), who said: "We try to make sure the food we sell has a story. The food and drink produced in Gloucestershire is of the very best quality and we're delighted to be the headline sponsor for the awards again this year."
The categories are: best eating-out establishment, best independent café, farmer of the year, best food producer, best drink producer, chef of the year, young chef of the year, young farmer of the year and best local food producer.
Tel: Creed Foodservice (01452) 857555.
Published Date: July 31, 2014
Category: Wholesale Industry News