---
HEADLINES THIS WEEK:
– NEW APPLEBY WESTWARD MD
– £22M CONTRACT EXTENSION
– TWO SITES FOR BRAKES
---
NEW APPLEBY WESTWARD MD
Mike Boardman (pictured), currently trading director of AF Blakemore & Son, is to join fellow SPAR wholesaler Appleby Westward in November as managing director.
Boardman's appointment follows the announcement that the previous Appleby Westward managing director Mark McCammond would be moving to SPAR Northern Ireland wholesaler Henderson Group in September as retail director (reported in Cash & Carry Management: April).
Leo Crawford, group chief executive of Appleby Westward parent company BWG and Appleby Westward chairman, commented: "Mike's wealth of experience within the SPAR family at Blakemore, and previously at Somerfield, ensures that Appleby Westward has recruited a top-class retail professional."
Tel: Appleby Westward (01752) 854000.
---
£22M CONTRACT EXTENSION
Food logistics provider ACS&T (Associated Cold Stores & Transport) has renewed a contract with Bidvest 3663 which dates back to 1994. Running until 2022, the new eight-year arrangement is valued at more than £22m.
ACS&T supplies more than 60,000 hospitality industry customers across the UK and has four depots – Grimsby (head office), Tewkesbury, Wolverhampton and Scarborough – with 12 cold stores and three ambient sites.
The partnership centres around the pair's 'national consolidation scheme', under which 130 of Bidvest 3663's suppliers benefit from the shared user platform that ACS&T provides.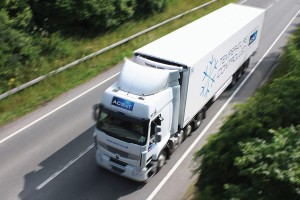 Products destined for Bidvest 3663 customers arrive at the Wolverhampton site and are stored and picked by ACS&T staff. They are then despatched to the chosen depot of the foodservice wholesaler, 'facilitating a seamless vendor-managed stock and supply service'.
Mike Rice, ACS&T development director, explained that the scheme provided not only shared-user collection, but also vendor-managed inventory and warehousing services, with proportional pallet charging for delivery to the Bidvest 3663 estate. He added that this offered suppliers a 'cost-effective methodology' to access the wholesaler's catalogue.
Rice said that his company also offered suppliers and customers of Bidvest 3663 synergies of the ACS&T network in other ways, including alternative route-to-market options, such as direct and less than truckload (LTL) deliveries.
Jim Gouldie, director of supply chain at Bidvest 3663, said: "ACS&T has always delivered a first-class response to our business needs, adapting readily to our consistently evolving requirements. It is an integral part of our supply chain and we look forward to continuing our longstanding relationship well into the future."
Tel: Bidvest 3663 (0370) 3663 000.
Tel: ACS&T (01472) 358207.
---
TWO SITES FOR BRAKES
Brakes has started work on a 173,000 sq ft multi-temp depot in Glasgow – due to open later this year – as well as a 67,000 sq ft building in Toulouse, France.
The announcement was made by parent company Cucina Lux Investments when it gave its first-quarter trading results for its delivered wholesale business. Pre-tax profit during the three months rose by 4.9% to £25.7m on sales 4% higher at £736m.
The opening in Glasgow follows those of multi-temp sites last year in Warrington and Reading. The investments are part of a five-year development programme.
Tel: Brakes Group (01233) 206000.
Published Date: June 12, 2014
Category: Wholesale Industry News