Matt Smith, marketing director of Tayto Group (pictured), highlights trends in the savoury snacks category and outlines the company's product developments designed to meet consumer demands.
What effect is the Coronavirus crisis having on the savoury snacks category? 
Crisps, snacks and popcorn is a £3 billion market in steady growth (+3.6%) (IRI) and has almost universal appeal as we are a nation of snackers. The convenience sector accounts for 20% of sales (IRI).
Consumers have changed both what they buy and where they buy it. In the convenience sector, the core segments of crisps and snacks have struggled, with more 'special' products such as pork snacks and hand-cooked crisps seeing good growth, as people look to treat themselves at home as a substitute to going out. Pork snacks has been the star performer – the fastest growing category (+7.6%) (IRI) due, in part, to pub closures, leading consumers to pick up scratchings in shops so that they can 'take the pub taste home'.
Changes to how we socialise have also accelerated the shift away from impulse packs into both sharing and multipacks, with 24% of consumers buying more sharing packs than a year ago (Norstat). With going out still looking a distant prospect, a night in front of the TV or a Zoom catch up with friends has become the norm and people are treating themselves with a pack of their favourite snacks such as Golden Wonder Ringos, meaning wholesalers must give choice by offering snacks across brands and pack sizes.
As lockdowns continue, take-home alcohol sales have soared (+18%) (Kantar) and this has helped pork snacks become the fastest growing snacks category, growing three times faster than the market (IRI). Given the intrinsic link between pork scratchings and booze, merchandising pork scratchings near beers, wines & spirits will help consumers pick up everything they need for a pub night at home.
Some things however are unchanged – taste remains king. In every piece of research we have conducted, taste is always the No.1 reason for purchase as consumers recognise savoury snacks are a treat and so have to be 'worth the calories'. This is underlined in pork scratchings where consumers crave the unique taste so much that one in five consumers will simply not buy another snack if they are not available (Norstat), making them a 'must-stock' item!
What are your best-selling products? Do you have any category wide advice?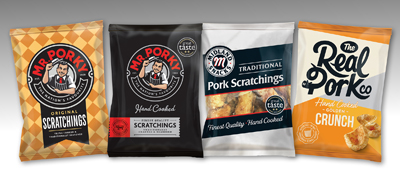 As the market leader in pork snacks with the top three brands – Mr Porky, Midland Snacks and Real Pork Co (IRI) – Tayto has completed extensive research into shopper behaviour that has highlighted opportunities to drive sales.
For many consumers, pork scratchings are the ultimate pub snack and so Tayto's best-selling pubcard, Midland Snacks, is a must-stock item for wholesalers along with the new range of Mr Porky pubcards. Despite the historical link to pubs, the majority of pork snacks are now sold in the off-trade and so wholesalers should be stocking a range of display-ready scratchings for their retail customers. Given that over 80% of pork snacks are consumed with a drink (Norstat), consumers frequently talk about buying them 'at the offie', by which they mean their local convenience store. To meet this need, Tayto has developed a range of Mr Porky clipstrips that enable retailers to merchandise pork scratchings on, or adjacent to, beers, wines & spirits to capture these incremental impulse sales.
Capturing the booming sharing snacks market means wholesalers need to be stocking a strong range of £1 PMP snacks – which are growing at 18% (IRI). Ringos and Transform-A-Snack continue to be our top performers in the £1 sector as they deliver Golden Wonder's legendary 'punch per crunch', great consumer value, as well as strong wholesale and retailer margins.
What do wholesalers need to do to maximise sales?
Wholesalers need to have the right range for the right channel. By being VAT Free, pork scratchings can offer strong margins for wholesalers and retailers but the format must be tailored to the channel – pubcards for the licensed sector and clipstrips for the convenience retail sector. One size doesn't fit all.
Consumers are looking for brands they can trust. Mr Porky remains the No.1 brand with 43% share (IRI) and has Great Taste awards across the range.
Pubs remain the home of traditional scratchings and so our best-selling pubcard – Midland Snacks Traditional Scratchings – is a must-stock item for any wholesaler with licensed customers.
How do you work with wholesalers to maximise your sales through the channel?
Given that Tayto over-trades in wholesale with both Golden Wonder and our pork brands, we have a team dedicated to support the sector including ensuring that we have a strong promotional plan through all the major wholesalers. We are on hand to offer wholesalers and their customers ranging and merchandising advice in these turbulent times. We see further potential for growth as people look to shop more locally and have high hopes for an even stronger performance for the category and our brands in the coming year.
What are the most recent developments in your portfolio?
Tayto refreshed their entire pork snacks portfolio in 2020, tailoring it to the latest consumer insights, with award-winning products and new formats including clipstrips and more pubcards for easy merchandising.
All of our brands have been updated to maintain their relevance whilst preserving the artisanal features that consumers want – traditional cooking methods and the finest ingredients and signature seasonings. The new pack designs have broader appeal and we've seen increased rates of sale, promising a sales boost for retailers.
The range includes Mr Porky Original Scratchings, Hand Cooked Scratchings and Crispy Strips; Midland Snacks Traditional Scratchings; and The Real Pork Co. Golden Crunch and Crispy Crackling.
We have also expanded our £1 PMP range to include Spicy Bikers. We will be supporting the launch with digital activity including opportunities to win bikes and an independent retailer focused trade campaign.
Golden Wonder's Ringos and Transform-A-Snack £1 ranges continue to perform well and so we will be adding a new flavour to both in April. Sour Cream & Onion Ringos will tap into this flavour's recent growth (+12.9%) (IRI). We will also be making our popular Cheese & Onion Transform-A-Snack available as a £1 PMP.
https://www.taytogroup.com/our-brands/
Published Date: March 3, 2021
Category: Meet the Manufacturer